ONE DATE IN THE FIRST MONTH (JANUARY 1923 – JANUARY 2023)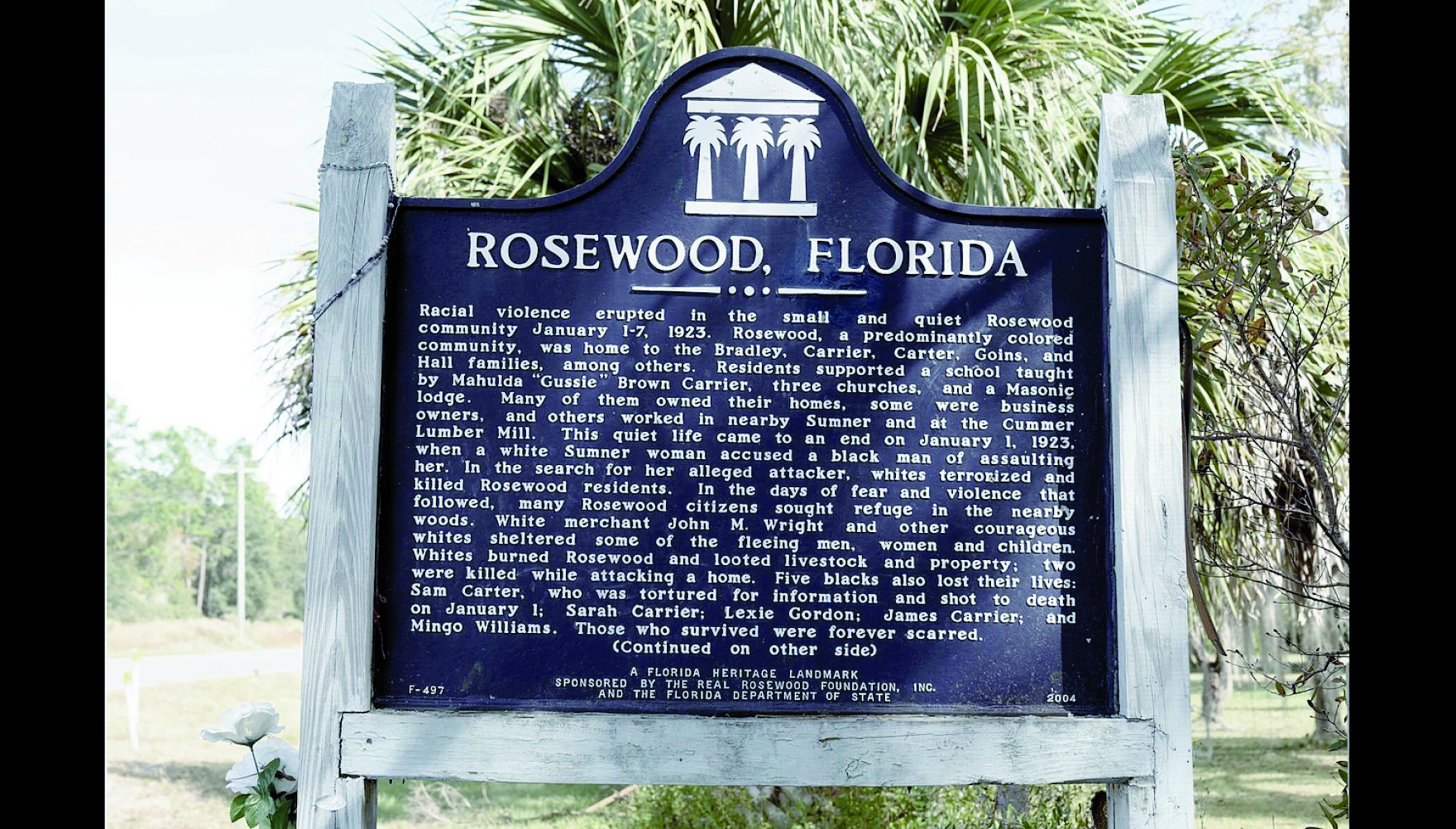 CENTENARY OF THE ROSEWOOD MASSACRE – A SPECIAL TRIBUTE TO THE VICTIMS OF THE JANUARY 1923 ROSEWOOD MASSACRE
January 1923 yesterday, January 2023 today. 100 years.
We do not forget. We cannot forget. Rosewood, in Florida, USA. The Rosewood massacre. Another peak of "White ferocity" – to speak like Rosa Amelia Plumelle-Uribe, author of "White ferocity: the genocides of non-Whites and non-Aryans from 1492 to date," published in 2020, translated from its original French version that was released in Paris, France, in 2001.
White ferocity against the innocent, peaceful Black dwellers of Rosewood, Florida. One hundred years after a white mob massacred them, with the police's collaboration, Hommes d'Afrique Magazine pays a special tribute to all of them. We will never forget them. Their memory will always be with us, in us.
What happened in the first week of January 1923 was horrific. As it is often the case of White mass violence against Blacks, a white liar ignited the flame. And, again, as often, the liar was a white woman.
Edited by Nikki Brown and Barry Stentiford, published in 2008, "The Jim Crow Encyclopedia" for the article "Rosewood (1923)" reads:
"In 1922, Rosewood was a small, close-knit, and predominantly African American town of roughly 120 residents, located in the pinewoods of Levy County, west central Florida, close to the Gulf of Mexico. The Rosewood community consisted of 20 to 30 families, the black-owned Goins and Brothers' Naval stores company, a one-room school, at least two churches, a Masonic lodge and a railroad depot connected to the Seaboard Air Line. However, by February 1923, this small world of Rosewood had been destroyed, razed to the ground in the wake of a brutal racial assault on the town and its black residents."
Then the encyclopedia situates the Rosewood massacre in the type of crimes White America had chosen to inflict on African Americans in those days:
"The larger backdrop for the events that unfolded at Rosewood was the widespread white racism and vicious mob violence directed against African Americans across the United States during the opening decades of the twentieth century. This era witnessed campaigns of terror orchestrated by the resurgent, or second, Ku Klux Klan; race riots in New Orleans (1900), Atlanta (1906), Springfield (1908), East St. Louis and Houston (1917), and Chicago (1919); as well as thousands of lynchings. The racial ideology of the period found popular expression in the motion picture The Birth of a Nation (1915), with its crude stereotypes of blackness, heroic portrait of the Ku Klux Klan, and profound fear and vilification of black male sexuality."….